Patterns of Nature (September 21 – November 2) features the work of seven artists, and includes paintings, ink drawings, macro-photographs, reduction woodcuts, three-dimensional encaustic, and a large mixed media installation. Each artist approaches the theme in a unique way, some utilizing recognizable subjects, such as beetles, moths, ferns, amoebas, while two of the artists have abstracted from nature to create new patterns. I believe this is one of the most beautiful exhibits ever seen in the Bridgeport art Center Gallery. Thanks to all the artists for providing the following artist statements and short bios:
ILZE ARAJS
As one of seven artists invited to participate in this exhibit, I have chosen to focus on the primordial growth spiral embodied in newly unfurling fern fiddleheads. Exhibited are 17 close-up photographs from 2014-2017 that were captured, at dawn in early spring, by looking upward at young fern fronds less than two inches tall. Printing these images at much larger-than-life scale allows for closer observation of not only the ephemeral physical properties of this phenomenon, but also the felt tenderness of my response to this early stage of unspiraling robust potential.
May this "spira mirabilis" growth spiral so evident throughout nature also invite an alignment of the human spirit with this pattern of nature. The close-up observation of sprouting and growing plants began in earliest childhood for Ilze Arajs. Her family lived near the greenhouses that her father managed, and there at eye level she could clearly see day-to-day changes in plant structures. In art school, she turned to greenhouses and gardens to make studies for prints and paintings. Arajs earned her MFA from the School of the Art Institute of Chicago, where she then taught for twelve years as Visiting Artist and Assistant Professor. She also taught at the Evanston art Center and the Chicago Botanic Garden. Whether working with textile collage, ink brushwork, or macro photography, Arajs continues to explore plant imagery to express the vitality of the human spirit.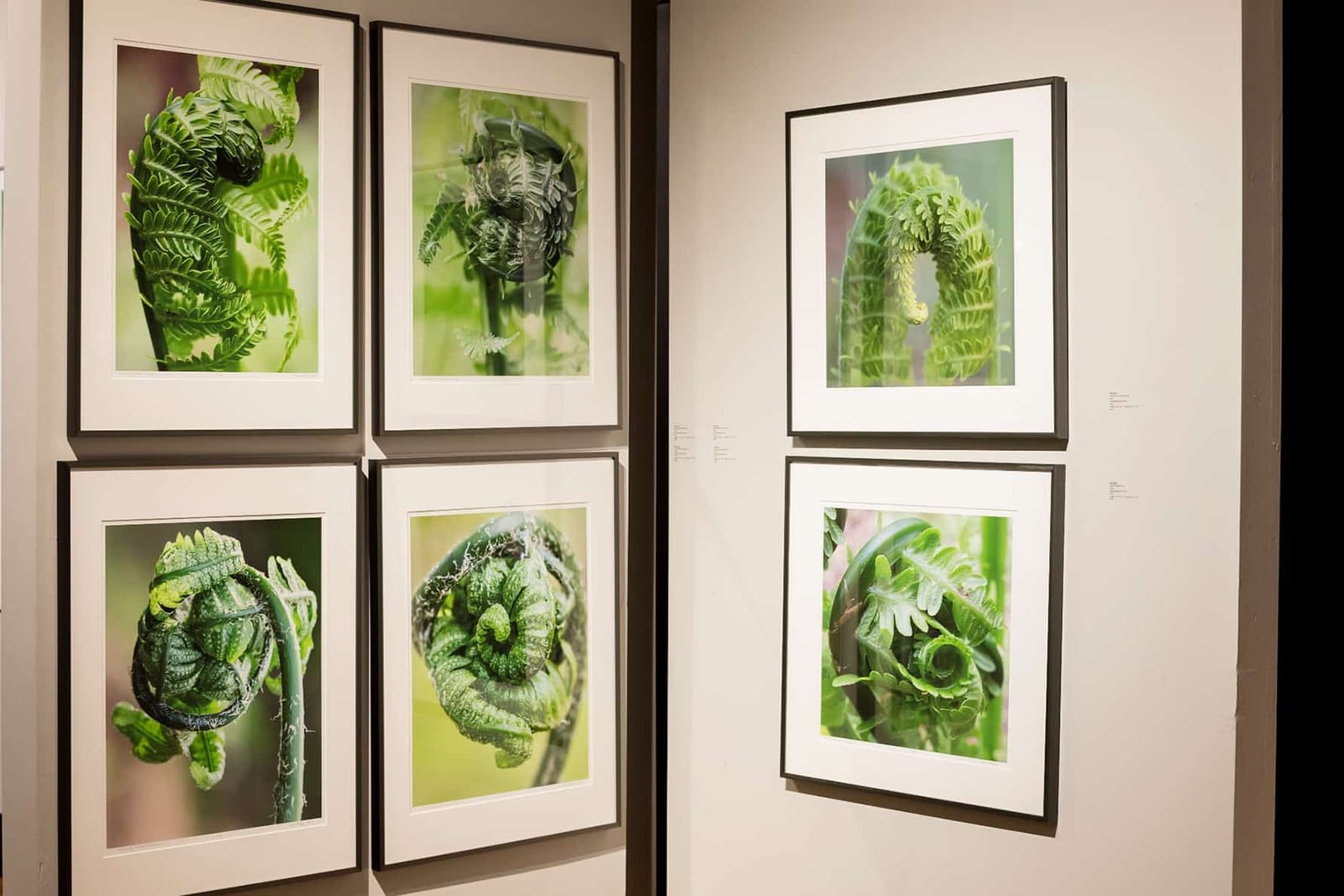 SHAR COULSON
I am influenced by the interconnection between humanity and nature. The organic qualities of my work stem from my love and respect for nature and its mysterious repetition of line and form. Working from my visual memory, the figuration appears and disappears within the shapes and gestural movements… it's perception vs. reality that intrigues me.
Each free-flowing exploration is only complete when the abstract touches the familiar…that point when something definite has been created, but its mystery is still intact. My hope is that when someone views my work, they are drawn in and connected on an emotional level to something fundamentally human.
Embracing the essence of Organic Abstraction, Shar Coulson's work reflects her love of nature and the human figure. Working intuitively, Shar explores the idea of perception vs. reality within the allusive figuration, gestural line work and organic forms found in her paintings. She was formally trained in classical figurative realism, yet finds her passion runs deepest in the world of abstraction. Her sensibility is also deeply informed by a successful career as a designer and executive creative director. Shar is a founding member of the Chicago Art Salon and exhibits both nationally and internationally. She lives in the Near West Side Market District of Chicago, IL.

HELEN DANNELLY
I am interested in metamorphosis as a natural phenomenon as well as a personal phenomenon. In my work, I address the spectrum of vulnerability – from closed, hardened, defensive exteriors to open, soft, colorful interiors.
My work is inspired by the natural world: plant life, sea life, pods, seeds, cocoons, leaves, coral, sea anemones, cellular structure, bone, earth, landscape, color, and the interplay of light and shadow. My pieces are nature-referential rather than replication. The three dimensional work resembles objects in nature, but they are unique abstractions. Helen Dannelly is a Chicago-based artist who studied painting and printmaking at San Francisco State University and sculpture at the University of Minnesota. For the past several years, Dannelly has been working both two and three dimensionally in encaustic, which is beeswax mixed with damar resin.
An award-winning sculptor, her work is in private and public collections throughout the country. She has shown at Slate Contemporary in Oakland, California, Adam Peck Gallery in Provincetown, MA, Conrad Wilde Gallery in Tucson, Arizona, and Kolman and Pryor Gallery in Minneapolis, MN. She will exhibit a two person piece with California artist Sandi Miot called The Coral Project in February, 2019 at Christopher Art Gallery at Prairie State College in Chicago Heights. It will be a visual representation of the plight of dying corals due to climate change and increased water temperatures.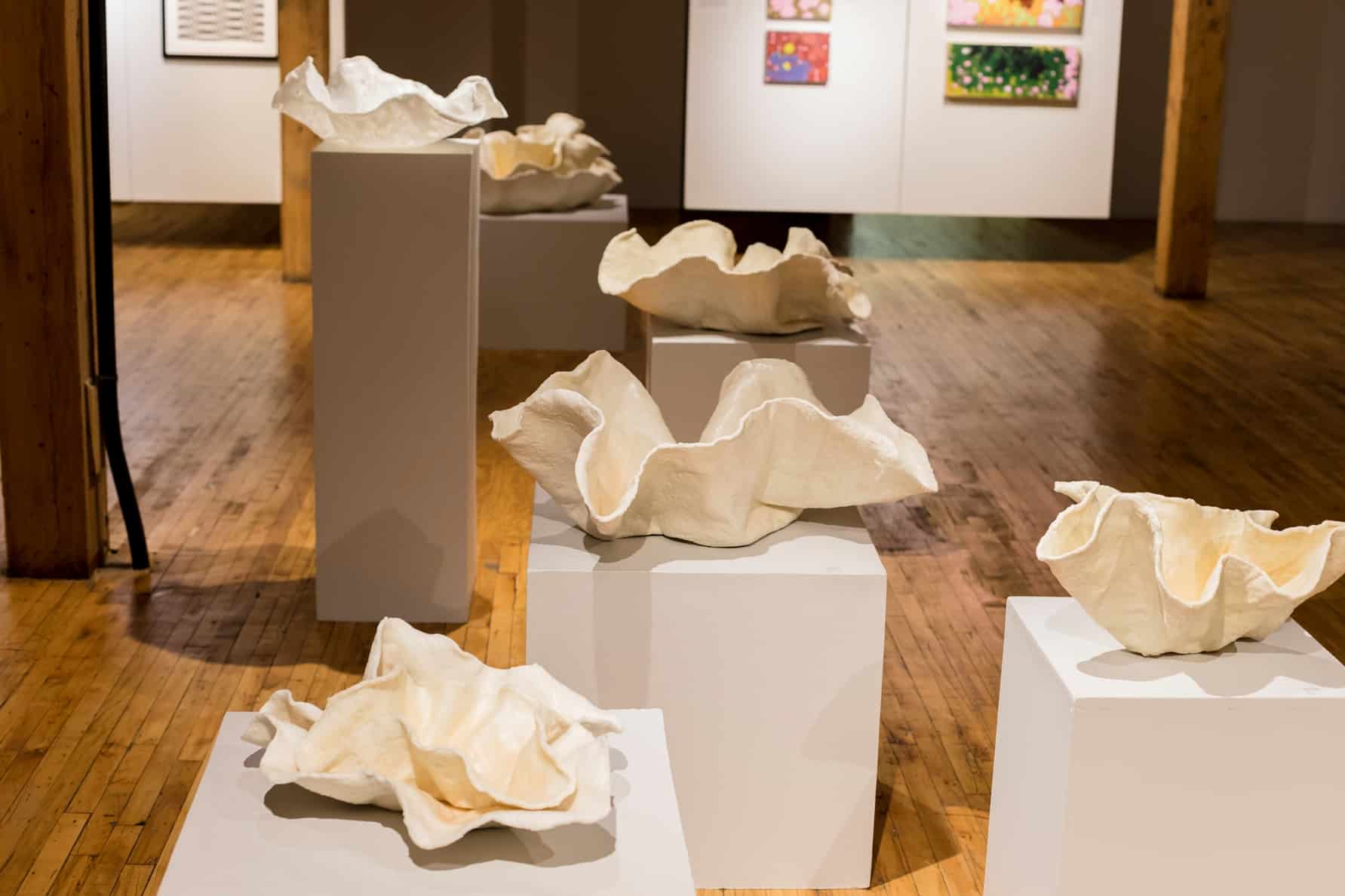 DAVID KRZEMINSKI
My fine art is mostly an exploration of high-contrast abstract drawings. Free-form lines, dots, and shapes are combined with ridged grids and geometric patterns to create pieces that are randomly drawn, yet highly structured compositions.
Mostly created as black and white ink drawings, select pieces are also translated into screen prints using high contrast fluorescent and vibrant colors. I was always influenced by the idea that there is more to be understood than what is initially perceived. This goes for anything; people, places, events, laws of nature, etc. On top of that, there is also the notion that perception can be restrained, or may differ from person to person. From a distance, my drawings can seem like simple black and white patterns.
But upon closer inspection, one can see these ridged patterns are made of many smaller lines and shapes that follow no obvious order. Illusions created by some of these patterns expose the restraints in our own perception. Even when you understand exactly how an illusion is constructed, you cannot physically force your eyes to see beyond the illusion. If our own eyes can play tricks and fool us, what other factors are fooling us beyond our visual perception? David Krzeminski is an Artist/Graphic Designer living in Chicago. He graduated from Northern Illinois University with a BFA in Visual Communication (2009), and has been working full time since 2013 as a Graphic Layout Specialist for Freeman Decorating.

RAUL ORTIZ
The landscape, for the past several years, has been the catalyst for my paintings. As a process painter, my goal is to create poetically contemporary landscapes that capture an array of subtle overlapping shapes, textures, light, scale and heightened color relationships that are derived from the tradition of abstraction.
This exploration begins with photographing nature on walks during travels and around town. In the studio, photocopies of photographs are transferred to the canvas, collaged in layers by acrylic paint. Then I rework the organic forms and representational images by juxtaposing many layers of expressive brushstrokes, adding/removing patches of flat spaces for contemplation, building up light on a water's surface and randomly framing areas by the use of a silhouetted image, e.g. a tree or flora, to compose a unique space. I am also interested in shifting the composition by dividing the picture plane.
My current work is a series of paintings that reinterpret, reframe and update the landscape with a contrasting contemporary twist. Ortiz was born in Ocampo, GTO, Mexico and immigrated to the United States with his family when he was five. He received his BFA in Painting, Sculpture and Printmaking from the University of Illinois at Chicago in 2001, and has exhibited in venues such as the University Club of Chicago, the Old Town Art Center, the Noyes Cultural Arts Center, the Rockford Art Museum and the Wright Museum of Art in Beloit, Wisconsin. He has also been an artist-in-residence at The Cliff Dwellers, Chicago in 2005. Ortiz currently lives and works in Chicago.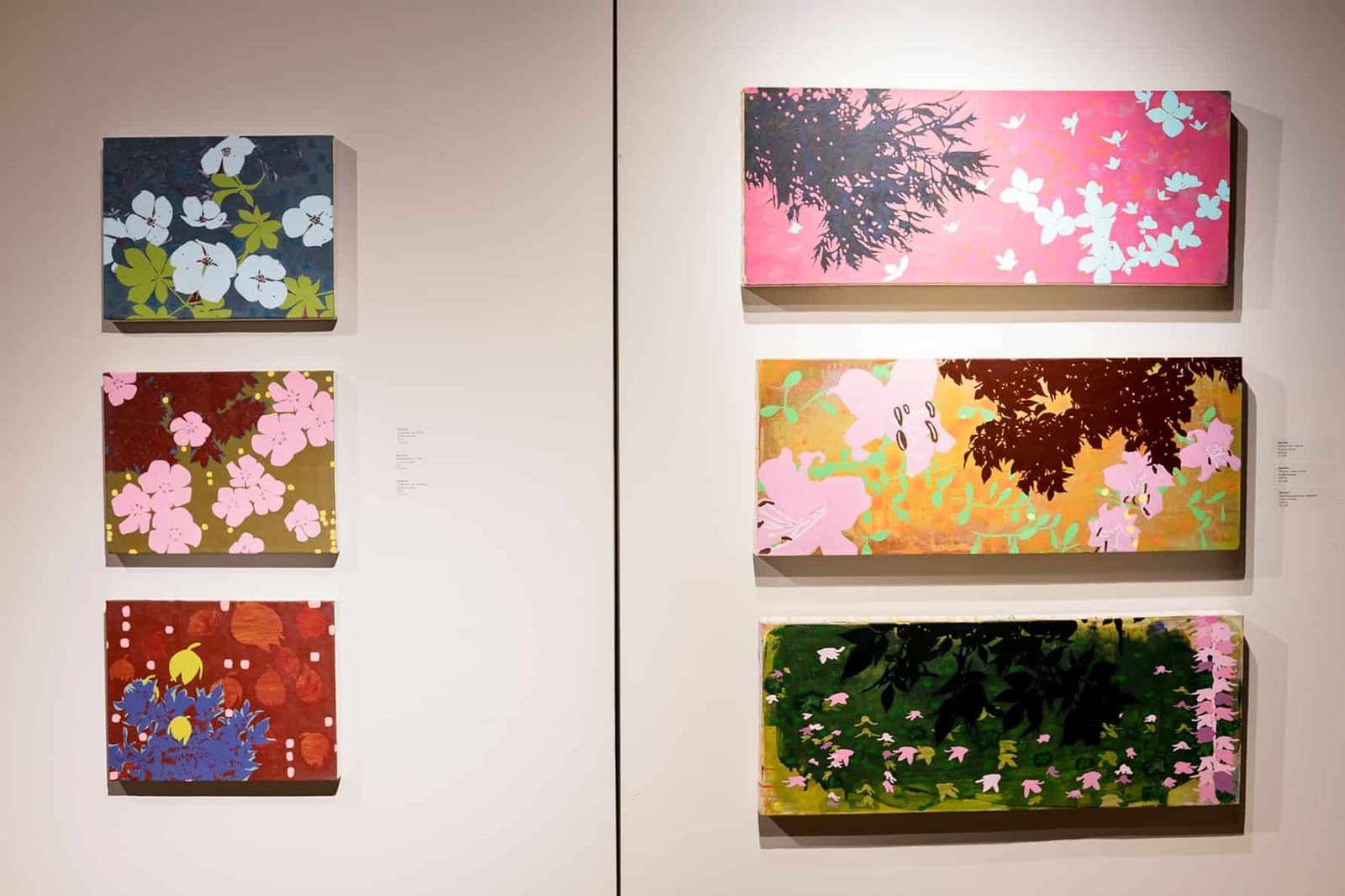 PATRICK ROULLIER
Interest in the arts and painting furniture came at an early age. I would frequent markets and sales with my parents every weekend in the summer to find furniture, tools or whatever may have struck their fancy. It fostered a quality in me of looking at the potential in objects that need a little love and work, not being afraid of a challenge and knowing a little elbow grease was in order.
I graduated with a BFA from The School of The Art Institute of Chicago with a focus on Scientific Illustration. I was preparing to continue my education in the medical arts when I had a chance meeting that changed the course of my life. I struck up a conversation with a woman looking intently at a store window. That woman was Anna Chiara Branca and the store was her daughters design studio "BRANCA". After much persistence I showed her my portfolio and was granted a position in her studio. I worked for her in her studio within her daughter's design firm, Branca, the last year of school. Anna Chiara opened my eyes to the detail and expertise in traditional decorative arts and inspired my love and interest in researching the history of decorative arts and its many applications.
She instilled in me a passion for details: to be aware of the nuances between various techniques in design, gilding, faux finishes and japanning. It was a short apprentice experience but one I treasure. I have much respect and gratitude for her lessons on work and on life as well. For several years after leaving Branca and finishing my BFA at SAIC, I worked as a designer and production painter for Frederick Cooper Lamps in Chicago. It was another type of education. The commercial work for a mass production high end audience was rewarding and challenging. The introduction to international markets, and the demands of sales, resourcing, organizing and quality control emphasized understanding more than just painting techniques. After several years of production and development of finishes and decorative painting for the company, I grew anxious for my work to have more meaning. I wanted to have more of a connection to my audience. And now, with pride, for over 20 years, I have focused on working for residential interior designers, event planners and small retail venues around the country. I am continually pushing myself to create work to utilize my developed repertoire of techniques and design interests. I continue to be invigorated, painting and working in design every day on a variety of projects for some of the leading designers in Chicago and around the country.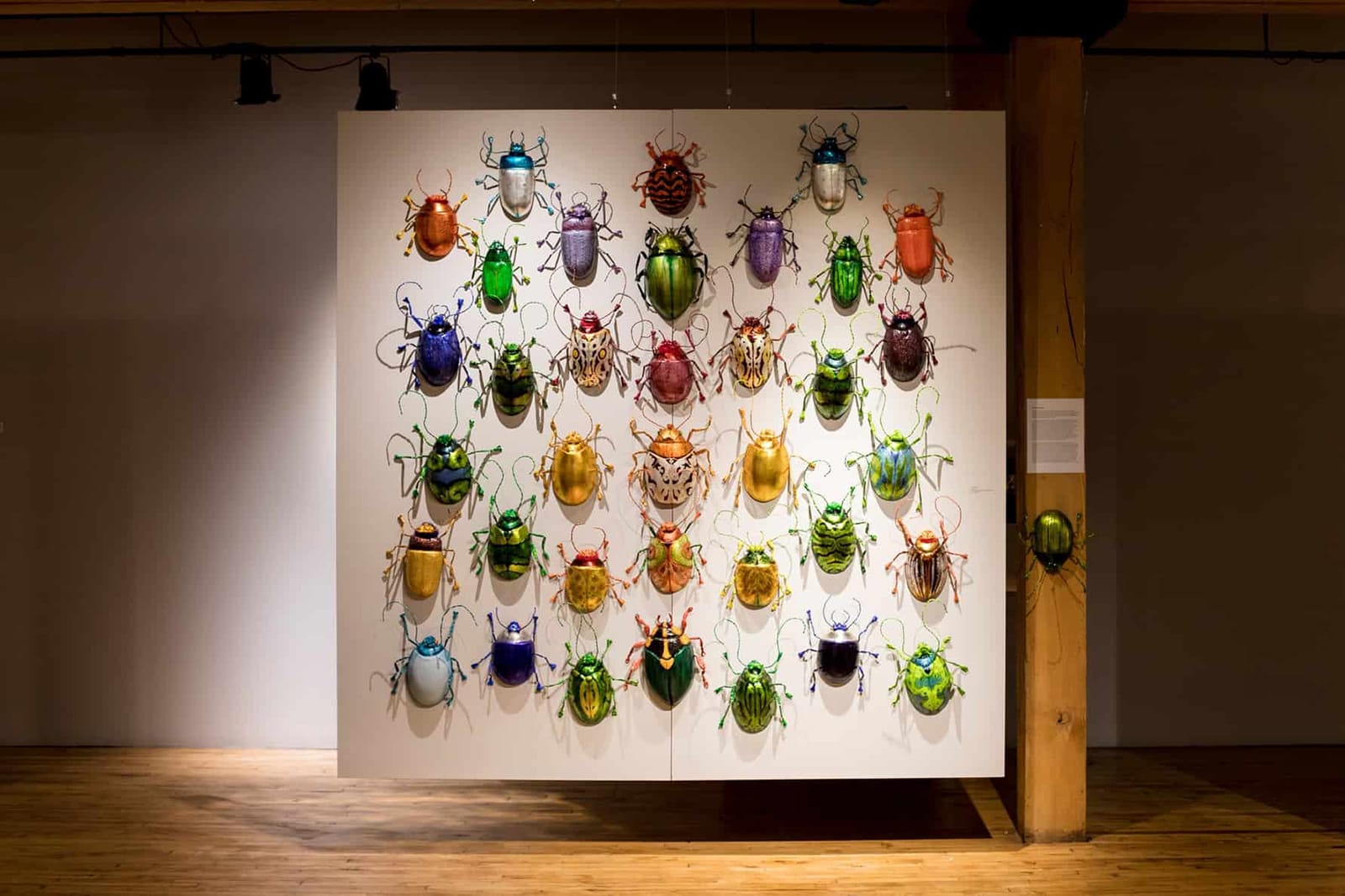 PETER VAN AEL
My creative research is informed by my interest in patterns, camouflage, mimicry, layering and relative scale. I find inspiration both in the natural and human-made world, creating abstract and nonrepresentational works of art that gradually reveal and obscure information in richly textured layers. Throughout my artistic career, I have explored process as content by challenging the definitions of printmaking, painting, and drawing, engaging in a dialog between traditional two-dimensional media and the shallow physical space of three-dimensional relief.
This dialog has evolved into a series of constructed bas-relief paintings in which painterly passages are contrasted with graphic fields constructed out of flat, inked woodcut blocks. Paint is pushed into seams and crevices parallel to inking intaglio plates, enhancing the play between illusionary and physical space. Since 2000, I have focused my studio practice on the reduction woodcut. I find its sculptural physicality in combination with its working immediacy very appealing. I am exceedingly seduced by its inherent quality requiring the gradual destruction of the matrix during the creation of the work of art.
The reduction woodcut print is born out of a creative one-way voyage that provides constant challenges and requires total commitment to any decision made; the reduction woodcut does not tolerate any detours or returns. Consequently, the reduction woodcut is always a unique, fresh, direct, powerful and honest expression of the artist's creative intent. At Northern Illinois University, Peter Van Ael is a member of the Museum Studies Faculty, Coordinator of the Olson Gallery, Chair of the School of Art Exhibitions and Visiting artists/Scholars Committee, and Museum Studies Program Coordinator.