Bridgeport Art Center's exhibition "Hard to Believe", which opened on August 19, features work by artists who have participated in (and most have won prizes at) one of Bridgeport's regional competitions since 2012. On exhibit are paintings, drawings, and in one case three-dimensional works, that demonstrate mastery of representationalism – creating works that "fool the eye". What makes this show so exciting is the way that each artist expands the notion of realism. These are not just "hand-made" art works that could be mistaken for photographs, but unique contemporary approaches to art.
Javier Chavira, for example, who teaches at Governors State University, encloses meticulously rendered ornately-framed portraits of people and birds within a larger box frame behind blue or yellow Plexiglas. His medium is oil over tempera grassa. "This body of work", says Chavira, "reflects my interest in the formal qualities of materials, process and presentation" – a statement befitting an artist who is a faculty member in a university art department, where there is heightened interest in and discussions about the nature of the artistic process.
Russell Harris presents both traditional still-lives and figural compositions but also works that contain strong conceptual, symbolic and allegorical components. "In combining traditional painting techniques with contemporary ideas, I have found it to be exciting and a challenge at the same time." Harris's painting of an older woman at a kitchen stove cooking a pot of soup is rendered in the style of 17th century master Johannes Vermeer, who is one of the artist's heroes. Though from entirely different epochs, both artists create exquisite paintings emphasizing light while depicting the most common subject matter.
Jennifer Cronin displays six in a recent group of portraits of co-workers (a series entitled Customer Service). Every individual is lovingly portrayed seated at a table, while hovering above each is painted an image representing that person's particular thoughts and/or desires as imagined by the artist. One appears to be thinking of a lush garden with inviting hammock; another imagines a detailed view of the City from above. The subjects' external likenesses are painted coupled with an imaginary interpretation of their inner lives or interests.
Anthony Adcock's work, first seen at BAC as part of the University of Chicago's 2013 graduating MFA class show, reflects a conceptual approach to realism. His paintings on metal are made to look exactly like gessoed but otherwise unpainted white canvases with smudges and preliminary pencil marks preparatory to further painting.  In addition, some three-dimensional works refer to objects relating to construction– iron beams that are in reality wood painted to look exactly like iron beams.  Of course such art raises questions about the very nature of realism.  Is it realism per se that we are attracted to, or is it a particular subject matter rendered realistically?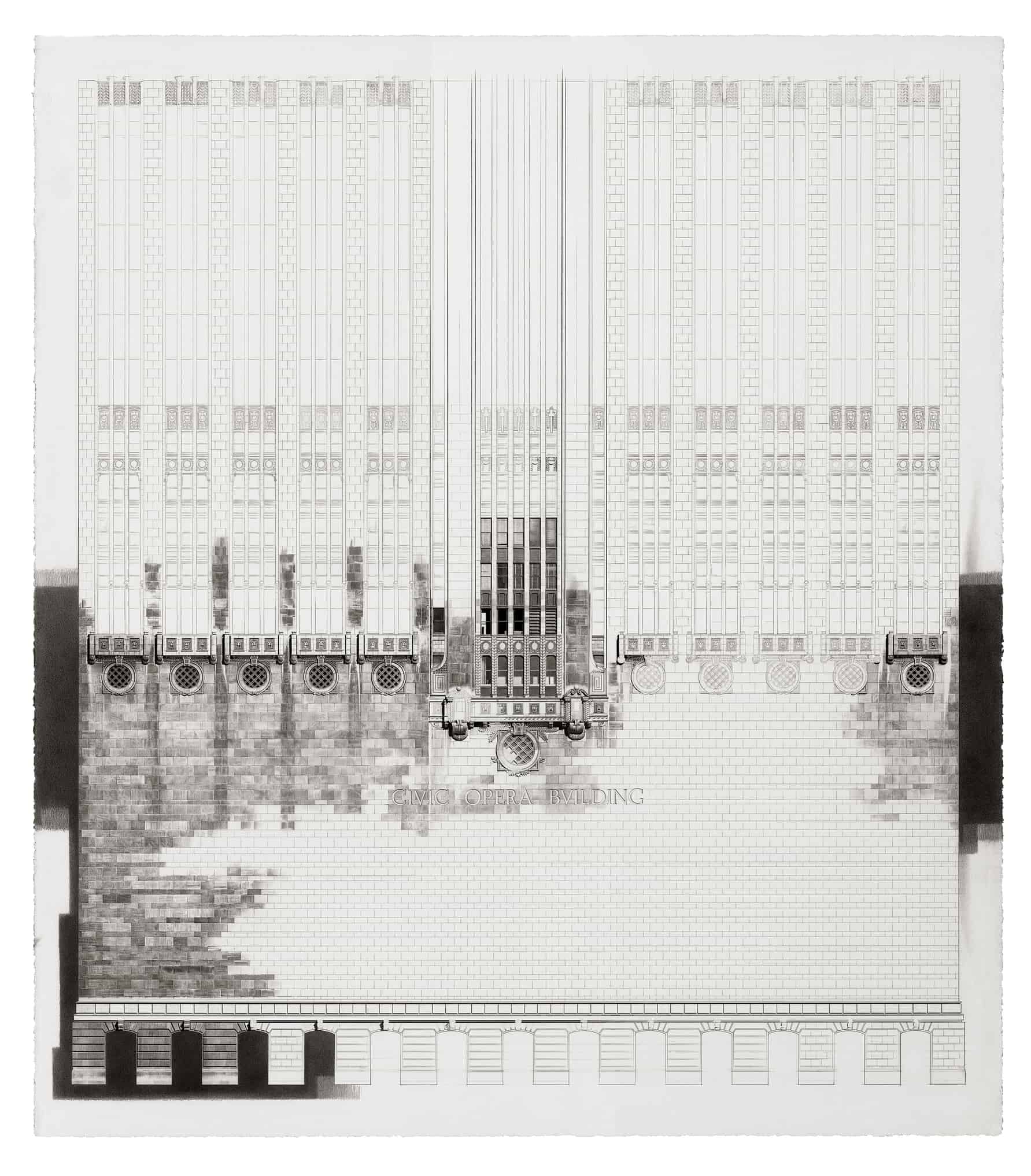 Jack Nixon's three monumental graphite drawings of Chicago architectural subjects represent his defense of the beauty of neo-classical architecture, in contrast to what is often perceived as the cold minimalism of many modernist buildings. The sheer patience and time required to complete such drawings (some take a year or more) evoke wonder in the viewer and admiration for Nixon's amazing technical skill. These works also point to one of the questions raised by hyper-realism: does the emphasis on the technical skill of the artist overshadow the larger subject or meaning of the work? In these drawings, the process itself can be seen as a metaphor for the classical and time-consuming approach of traditional architecture.
Roland Kulla's well-known paintings of metal bridges function in most cases as almost abstract compositions. For this reason, I find them very compelling. They are extremely "realistic", yet by virtue of the stark compositions which exclude other representational elements (except in some cases background skies and clouds), they are also pure form and color combined in complex rhythms and patterns. I was driving downtown the other day crossing one of these Chicago metal bridges and looking out the window saw, with kind of a jolt, a Kulla painting, as it were. This reminded me of how powerful art is – to make us really see what is around us, to recognize the art in the world around us that Roland had seen.
Tracy Frein's contributions to the show are all black-and-white drawings, mostly of modest size but also one large life-size figure portrait of a young woman.  While they are masterfully drawn, each work seems to encourage a psychological interpretation which takes the artwork beyond simple representationalism.  "Working with a limited pallet helps expose those dark and sometimes destructive emotional truths", writes Tracy, that may plague his subjects. "Each subject is a compelling visual portrayal of the human spirit, determination and courage."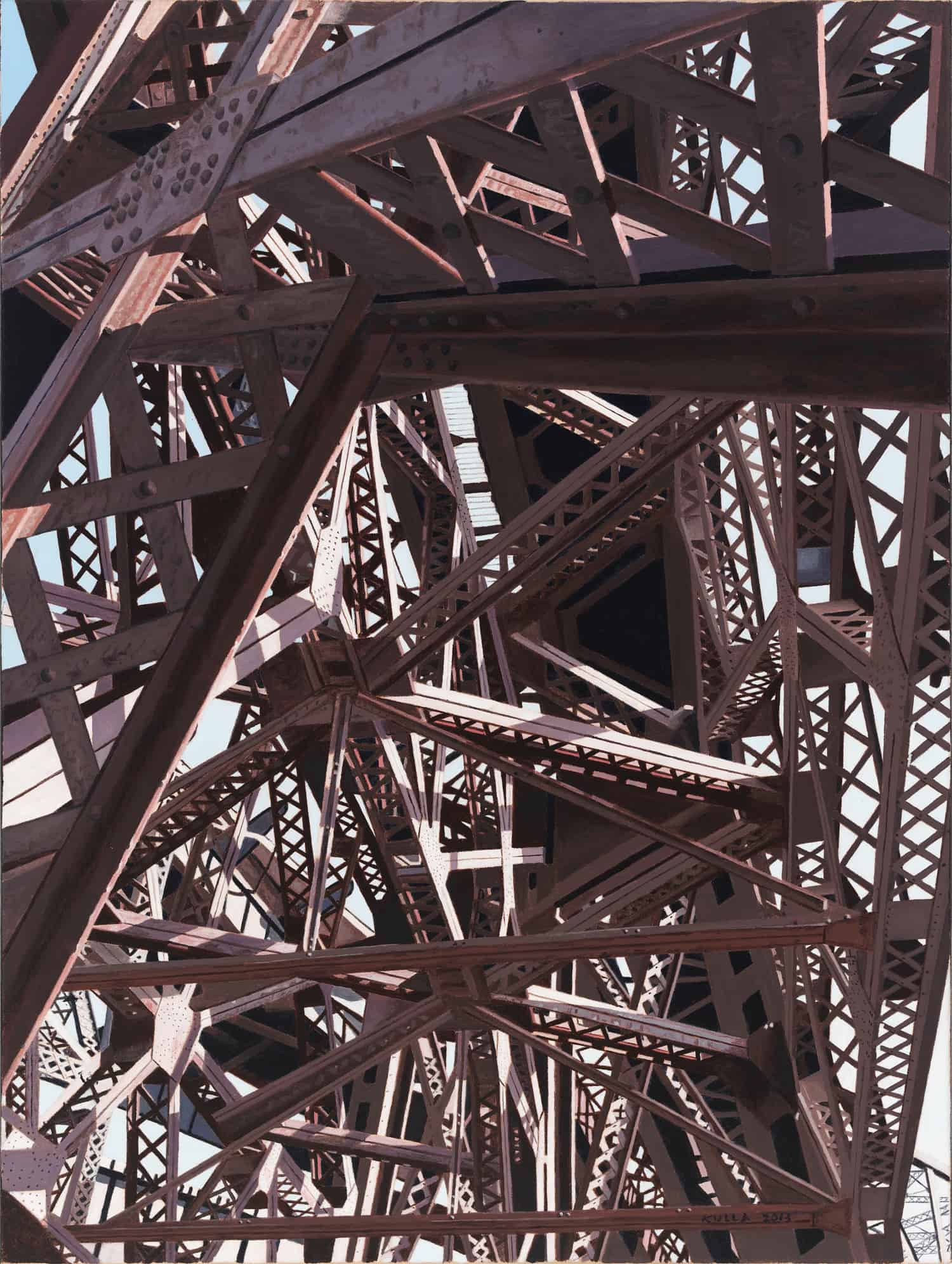 Zespo presents the largest painting in this exhibit – a work that he says is the final in a series of paintings created at the conclusion of his BFA program. It has very much the feeling of a graduating masterwork meant to demonstrate the artist's skill to depict a variety of shapes, textures, and tonalities in a complex spatial composition. Zespo won the first prize in his entry into one of BAC's annual art competitions with a similar work. It will be interesting to see what direction he will be taking in his future studies on the graduate level.
I will conclude with the work of Kyle Surges, who remains one of BAC's first great success stories. When the gallery was established in 2012, it was decided that a regional art competition would be a good way to introduce the new gallery to the art community. Kyle received an award for best representational work in that first competition. Juror Tom McCormick fell in love with the piece (a deliciously rendered piece of chocolate in wrapper), purchased it, then invited young artist Kyle to join the McCormick Gallery stable of artists, where he later had a solo exhibition. Kyle depicts common objects from popular culture and commerce – such as a coke bottle cap, or paddle ball, which can have a powerful nostalgic attraction for viewers. His method of depicting shadows is truly hard to believe.
The exhibit remains on view until the end of September.
-Lelde Kalmite, Gallery Director and Curator